Search Engine Optimization Tips: Getting your website listed on the first page of Google.
Getting your website listed on the first page of Google or any other search engine takes hard work, strategic planning and persistence. As an
Internet Marketing Company
, we specialize in organic website optimization for companies to improve page ranking on Google, Yahoo, and Bing search engines. First, let's talk about the two ways to get listed on the first page of a search engine result page (SERP), Pay-Per-Click (PPC) advertisement.
The Paid or "Sponsored" Way.
All major search engine result pages have "sponsored" and "organic" search result areas. "Sponsored" or paid result areas contain PPC advertisements ads that have been created by someone to increase website traffic/visibility. Most SERP's have two "sponsored" areas that contain approximately 10-12 PPC ads. PPC ads are displayed based on the user search term and the PPC ad settings established when it was created. Like web page optimization, you must spend time planning and optimizing your PPC ads AND the landing webpage to get a maximum Return of Investment (ROI).
Here is a picture of the Google SERP, Notice the blue area marked as "Sponsored Links".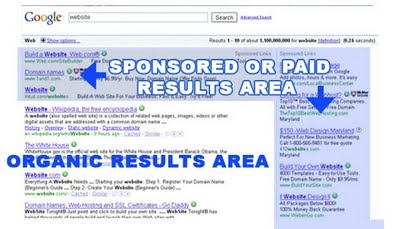 Getting your PPC ad listed on the first page of a SERP takes a little bit of planning and $$$. When you create a PPC ad, you set the Cost-Per-Click, or what you would be willing to pay for a user to click on your ad. You also set parameters such as, when the ads should be displayed, daily/monthly budget, targeted audience demographics, keyword/search terms, title, landing page url, preference SERP placement (Top vs. Side), to name just a few..
Obviously, the higher you set your Cost-Per-Click per keyword/term, the higher your PPC ads will appear on the SERP page and your daily/monthly budget will determine the frequency of the ad placement.
The "Organic" or Natural Way.
The organic search results areas on SERP's are generally located on the center of the page, just below the sponsored result areas. Google, Yahoo and Bing have ten positions on each page that contain organic or non-paid records. Getting your website listed on the first page of a SERP organically takes time and most important planning. Organic website optimization means to design and build each page in such a way that it will be easier for search engines to both discover and categorize your site content. Below are some organic website optimization tips that can help you achieve a high page ranking.
Here is a picture of the Bing SERP, Notice the white area marked as "Organic Results Area".


Create unique, accurate page titles for each page.
A title tag tells both users and search engines what the topic of a particular page is. Read more about title tag website optimization.
Make use of meta keywords and description tags.
Meta tags are HTML tags used to describe the content of your document (meta-data) to browsers and search engine spiders. Your meta keywords and description tags should be unique to each individual page and should contain your keywords that you are optimizing your site for.
Make use of the anchor tag.
The Anchor text is the clickable text that users will see when text is placed within the anchor tag . Your anchor text should be short but descriptive text. Remember, the better your anchor text is, the easier it is for users to navigate and for Google to understand what the page you're linking to is about.
Make use of the anchor title tag attribute.
Anchor title tag attribute is the text that appears when someone hovers over the clickable text of a link . The anchor title should contain a short description of what the page linked to is about.
Make use of the image "alt" tag attribute.
The "alt" tag attribute is the text that appears when your mouse hovers over an image. All images can have a distinct filename and "alt" attribute, both of which you should take advantage of.
Employ a Sitemap.
Sitemaps provide a way for users and search engines to discover your content. They make your site easier to navigate and can be used to tell search engines which pages are more important than others. Google provides a free tool that allows you to submit an XML sitemap to communicate your site structure.
Promote you website.
This could be through blog posts, social media services, email, forums, or other means. Organic or word-of-mouth buzz is what helps build your site's reputation with both users and Google, and it rarely comes without quality content.
Labels: get listed on listed on the first page of Google, Google Website Optimization, increase website traffic, what is PPC