SEO Keyword Research:: Google Insights for Search
One of the most important elements of any successful SEO strategy is Keyword Research. Keyword Research is the process of identifying and selecting the most relevant search terms your targeted audience would use to find your product or service. Keyword Research may include evaluating keywords used by competitor websites, using keyword generator tools, conducting customer surveys and brainstorming sessions. One invaluable Keyword Research tool that should not be overlooked is Google Insights for Search.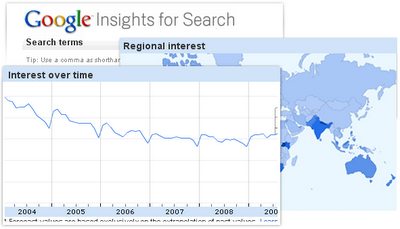 Google Insights for Search is a free service provided by Google that essentially allows you to see what the current search trends are for particular search term(s). You are able to filter results by country, regions, cities, categories, and time ranges. You can also see top related searches and rising searches trends for a particular filtered result. Google Insights for Search allows comparing date ranges dating back to 2004, so you can see search trends related to a particular topic spanning over several years.
Let's look at an example of how to use Google Insight for Search to strategically select keywords for our Search Engine Optimization campaign.
Our Law Firm
Example:
A new law firm has just opened in Bethesda, Maryland. The firm wants to optimize its website to organically increase client leads. The firm specializes in divorce law and targets people who are looking for divorce lawyers within a 50 mile radius from the Bethesda office location.
Based on keyword research techniques, firm staff have created a list of five keywords that targeted audience may use to search for related services.
divorce law firm
divorce attorney,
divorce lawyer,
marriage divorce,
family attorney
Using Google Insight for Search
In order to maximize SEO efforts, we want to ensure that the
most effective
keywords are used during site optimization. Using Google for Insights will allow us to see which keywords have the best track record for users within the targeted area, show related search terms they we may have missed, compare search terms, and identify possible search patters of search terms.
Compare the Performance of Keyword/Search Terms
Our first step is to compare the performance of the search terms related to "lawyer" services for our targeted area. The search area provides you with the ability to add up to five search terms in the search term boxes provided. You are able to compare up to five search terms groupings at one time, with up to 25 search terms in each grouping. In our scenario, we are going to add "lawyer" in the search term box.
Next, we are going to apply the filter to include searches spanning the past three years that have been from our targeted area (Maryland, DC area) and in the "Legal" category.
The Value of the Reporting Sections
If your search criteria has enough data, then your results will be generated into three reporting areas including an "Interest Over Time" reporting area, "Regional Interest" reporting area, and a"Search Terms" reporting area.
Interest Over Time
This reporting area contains a graph that illustrates each keyword/search term performance spanning over the selected time frame. The numbers on this graph reflect how many searches have been done for a particular term, relative to the total number of searches done on Google over time. In addition, you are able to see growth related to interest level and its growth relative to its category and can see news headlines for the search term and a "projected search volume forecast" based on previous trends. In our scenario, we can see that "lawyer" searches related to "Family Law" comprise of 10-25% of Legal Category search volume.
Regional Interest
The Regional Interest reporting area allow you to see the search terms popularity by region/city/country. In our scenario, the targeted audience lives in a 50 mile radius from Bethesda, Maryland. We can see that Potomac - MD, Washington - DC, McLean - VA are the top three cities with the highest search volume for "lawyer" in our targeted area, with Bethesda - MD landing at 6.
Search Terms - Top Searches vs. Rising Searches
The search terms section is broken down into two areas, the Top searches area and the Rising searches area. Top searches area contain search terms with the most significant level of interest. In our scenario, we used "lawyer" as our search term. In the results we can see that "attorney" and "lawyers" are the top two search terms, with "divorce lawyer" at #6. We can also see other keywords related to our search and even drill down to see search results within the search term.

After drilling down into several top search terms, we are able to identify several additional keywords that should be considered for the SEO campaign and re-prioritize search terms based on performance.
Conclusion
Effective keyword selection begin with Keyword Research. Using the proper keyword/search terms can be the difference between 10 users and 1,000 users a month. Google Insights for Search provides you with a FREE tool that will help you measure interest of particular keyword/search term related to your product/service.
Labels: google insight, improve website ranking, increase website traffic, keyword research, seo